Thursday, November 30, 2006
the abang-cubao adventure

Ace, Patty and I wanted to get home ASAP when we heard the news about the super typhoon. Patty didn't want to get stuck in LB again, while Ace and I didn't want to experience what Patty did during the typhoon Milenyo. And so we decided to go home even if it was already late at night.

While waiting at the bus stop, we met these 2 guys--Alfred and Eirol (who happens to be my classmate last sem). Then, a lady beside us said that the next trip of HM Transport will still be at 2am! Thanks to our 2 newly found friends who looked for another way-by befriending the tambays and the tricycle drivers near us-to get to Cubao. The 5 of us decided to leave the many people waiting at the bus stop and took a jeepney from LB to Calamba. On our way to Calamba, the 5 of us got to know one another better. It turned out that Eirol and Alfred had also met at the bus stop. Meant to be ba ito?? Haha. From Calamba, we took an ordinary bus going to Alabang. It was my first time to take an ordinary bus from Laguna to Manila! Imagine all the dust and pollution we took in from one province to another! It was like riding the space shuttle for around 45 minutes! Hinangin ata buong katauhan ko sa byaheng yun. Haha. Laugh trip na lang kame sa bus. SUPERLINES!!!!

It was a relief when we got to Alabang. Before Ace, Patty, Alfred and I got into the bus to Cubao, Eirol even wanted to have a picture with the 4 of us! Remembrance ng adventure. Waha.


Abang-Cubao friends! Ace! Patty! Eirol! Alfred! Di ko kayo malilimutan! Salamat! Kitakits sa UP. :) Salamat din sa Tatay, Nanay at Ate kong naghintay sa Cubao ng halos 3 oras. Labyow! :)
**hahahaha! para naman akong nanalo ng award!




by alyakadabra at 6:46 PM


Friday, November 17, 2006
swerteng kamalasan. :)

Everything was just so wrong.

Yesterday, I left the house at 2pm. Arrived at LB around 6:30pm. I felt like my already big butt got even bigger after those 4 loooooooooong hours of butt-numbing travel. Then, I realized that I forgot to bring the key to my closet! I had to sleep with the same clothes on since I only brought the clothes that I would be wearing for today! Ayayay.

And then this morning, Patty and I woke up so early for the enrolment. Ok, I have to tell this story in Filipino. Para maramdaman niyo yung galit namen ni Patty. Waha..

Nakapila kame ni Patty. Andun kame ng mga 645. Walang breakfast breakfast. TAE talaga yung mga tao!! Pasimple kung sumingit!!! By block pa yung iba kung sumingit. Imagine-in niyo yun! Pag may nakita silang blockmate nila, kunyari mag-hehello lang tas biglang kasama na sila sa pila. Anak ng lupa talaga! Minsan sampu-sampu kung sumingit. Todo parinig na kame ni Patty, but NO! Antitigas ng leeg. Kunyari walang naririnig sa likod nila. Gusto na namen makipag-away kaso naisip namen, gulo lang yun. Sabi ko na lng kay Patty, tandaan niya yung mga mukhang yun. Yun ang mga FUTURE KURAKOT NG BAYAN. Tas sabi ko, wag na lang namen pansinin para di kame mgka-sin. Baka matuwa si God samen. Aba akalain mo! Ambilis talaga ng karma. Yung ibang sumingit underload. Waha buti nga!! Yung iba 6 or 9 units lang nakuha so kailangan nilang pumila ulit sa enlistment. Buti nga!! Kame ni Patty?? Aba syempre tinamaan rin ng good karma! 18 units agad tas ambilis namen nkabayad at nka-reg. Bwaha. Nakakain na kame at lahat, pag kita namen, nkapila pa rin yung iba. AY KAWAWA NAMAN... bwahahahahaha! :j

I was only able to get my class cards today so it was my first time to see my grades. Well, I got the best birthday gift for myself.. CS(a.k.a. DL) ako! Yeeeeeeey!

Not everything was wrong after all. :)


by alyakadabra at 8:03 PM


Tuesday, October 10, 2006
kawawa.

When I first saw the UPLB campus yesterday, there was just one word in my mind:
DISASTER

There's still no electricity in our subdivision here. Grrrrrrrrr.. And it's not because of Milenyo!! It's because of a pathetic thief who stole the transformer. Ayayaaaaaaaayy. Kuryentehin kaya kita. Amoy kandila na kame dahil sa'yo. >=S

Help help, Meralco!!

*Reasons to celebrate: 1. Got 1.0 for a paper in Fil20
2. No more research paper to worry about.
3. Someone made my day. Wooooooh!
4. Sembreak is coming.
......AND......
5. It's the Dabalos' twins birthday tomorrow!!!!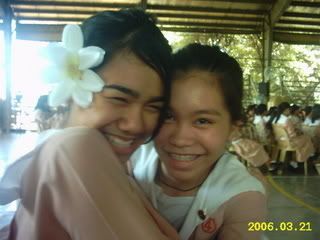 Happy Birthday Kat and Kris!! :)
Nakakamiss kayo!! Lalo ka na Katrinaa!! Ano handa?? Bibingka?? Hahaha. ;)
Mach will always love you! You are the one! Wooh. Hehe. ;p




by alyakadabra at 4:39 AM


Tuesday, October 03, 2006
parang sembreak

ayayay.
GOOD NEWS: No classes for the whole week.
BAD NEWS: Classes are extended until the 20th. Huhu.

O mahal kong Los Baños.. Kamusta ka naman kaya ngayon? Balita ko nagsitumbahan ang mga puno at poste dyan. 16 pa nag patay. At ang carabao park sa UP campus, jurassic park na ngayon. Ayayay. Namimiss ko UP.

Anyway, since I'll be here the whole week, I am making this announcement: Sa mga kaibigan ko dyan! Alis naman tayooo!! Taralets! C'mmoooonnn. Lubusin na to. Haha. ;)

GO USTEEE!!!--Oyoy. Congrats sa mga Thomasians. Nice Game. Galeng galeng!! Aylabyu Pido!! Haha. Cuteness. ;)
Watched the game at Nikko's place with Leo and Nikko, of course. After watching, we went out to buy dirty ice cream. It was raining so hard but then the craving was there, however...Manong Sorbetero wasn't. :( so we walked to Convergy's. Bought ice cream. Bought chips. Bought coffee. Tambay. Ate. Talked. Tsismis (Nakunaku). Laughed. Saya :)

Lapit na birthday ko! Weeeeeeee!!


by alyakadabra at 4:02 AM


Monday, August 28, 2006
HUBAD NA KATOTOHANAN

Click mo to lalo na kung Isko o Iska ka:
WEH!

*Mr. Gonzales, the term "well-behaved" does not pertain to people who choose to shut their mouths despite the immoral doings before them. Nor does it pertain to people who choose to keep their clothes on. How can you call these students "destabilizers" when in the first place, we have NEVER experienced stability from this administration?

There is such a thing as cause and effect. There are many reasons why students fight the state. Why not ask your BIG(?) BOSS about these reasons?

Buti ng hubad kesa balot sa saplot ng kasinungalingan.
Well-behaved? Keep telling yourself that.



by alyakadabra at 6:50 AM


Friday, August 18, 2006
STILL

My first time to spend a Friday night here in LB. No bubble gang treat for me today.:( It's a good thing my roomates Ivy and Ate Ken are not going home today so I've got company. Ate dinner at L'Brew with them. It's starting to become one of my favorite restos here. Adik kasi ako sa kape eh. Haaayy. Saya. ;)

Kendo tomorrow!! Yey. Career na to. Dati arnis lang ngayon may Kendo pa! Kendo is a martial art similar to arnis. It originated from Japan. And tomorrow, I'll be attending a seminar/lessons about that. Haha.

Guess what song is playing here right now?? BROKEN VOW. Waha. Meteor Garden fever!!! It infected me once again. These past two weeks, my roomates and I had Meteor Garden marathons. Nahawaan ko rin si Ate sa bahay. Kaya yun. Bumalik feeling ko para kay Huaze Lei. Waaaaaaaaaahhhhhh!!! I rememeber the days. :) Baduy na kung baduy. Masaya naman. Haha.


Miss kita! :)

Gumaganda! Gumaganda! ;)


by alyakadabra at 8:44 PM


Saturday, August 05, 2006
TAYA!!

got this from acy's blog;)
*Press forward for each question.
*Use the song title as the answer to the question even if it doesn't make sense. no cheating.
*Tag 10 people to play this game too.


How are you feeling today?: Stuck In A Moment- U2

Will you get far in life?: Moon and Back- Savage garden

How do your friends see you?: Deep Inside of You- Third Eye Blind..may x-ray vision mga yun eh!

Will you get married?: Someday We'll Know- Mandy Moore + Switchfoot

What is your best friend's theme song?: Mata- Mojofly..hahahaha acy! this is so you!

What is the story of your life?: Fame- haha. feeling sikat eh. sino nga ba kumanta nito?

What was high school like?: Best I Ever Had- Vertical Horizon..i miss you sixtreme!

How can you get ahead in life?: Getting jiggy Wit It- Will Smith

What is the best thing about your friends?: We Are Family! – Sister Sledge

What is today going to be like?: Toxic- Britney..hahaha

What is in store for this weekend?: Ulan- Rivermaya

What song describes you?: Me- Paula Cole

To describe your grandparents?: Gone Too Soon – M. Jackson

How is your life going?: Stayin Alive!- Bee Gees

What song will they play at your funeral?: One Sweet Day - Mariah Carey (haha c acy at dichi kakanta nito!)

How does the world see you?: Hot Stuff- Donna Summer..oh yeah! that's what you call humility. ;)

Will you have a happy life?: Get The Party Started- Pink..come oonnn!

What do your friends really think of you?: Nakakabaliw- Barbie Almalbis + Pupil

Do people secretly lust after you?: Time After Time- Matchbox 20 ..hahaha

How can I make myself happy?: Play That Funky Music- Wild Cherry

What should you do with your life?: Fly Away – Lenny Kravitz

Will you ever have children?: Tamagotchi Baby- Eheads..yak! ano ichura ng anak ko??

Taya kayo!====== Leo, Maiko, Patty, Nica..at 6 pang taong gustong sumagot. Haha. :)